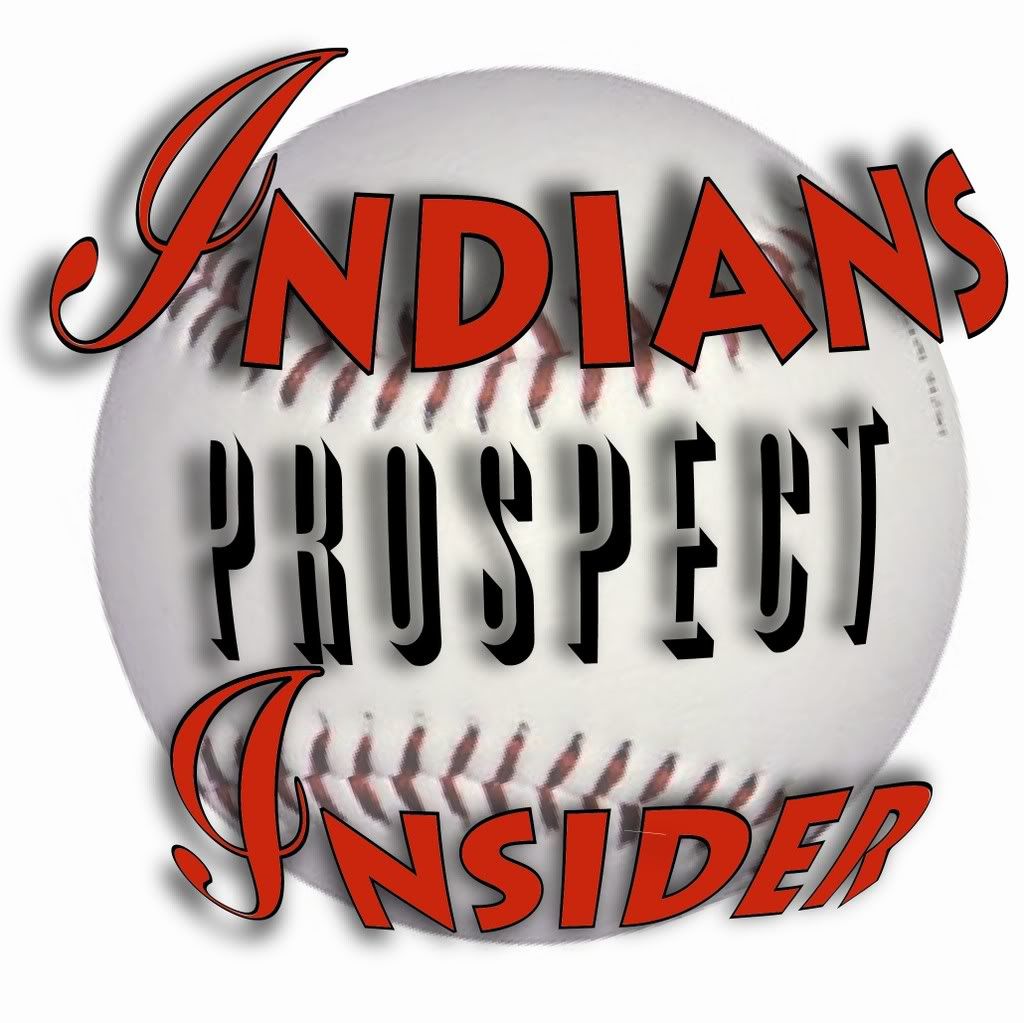 The next guest in our series of Q&As with Eastern League bloggers and beat writers is Tony Lastoria, the boss over at Indians Prospect Insider and author of 2009 Cleveland Indians Top 100 Prospects. Tony tells us which Indians farmhand is the second-coming of Jim Thome, which one could be better than Victor Martinez, and why you should know the names Hector Rondon and Jeanmar Gomez.
First off, your book 2009 Cleveland Indians Top 100 Prospects is fantastic, as always, and a must-read for minor league baseball fans.
Your projected Akron Aeros line up is pretty impressive. (Actually, scary is the appropriate word for a Baysox fan.) The projected starting line up, rotation and bullpen, some of which I've reproduced below, are filled with prospects.
Catcher—Carlos Santana
First base—Beau Mills
Second base—Josh Rodriguez
Third base—Jared Goedert
Shortstop—Carlos Rivero
Outfield—Nick Weglarz
Outfield—John Drennen
Outfield—Jose Constanza
Starter—Hector Rondon
Starter—Jeanmar Gomez
Starter—Steven Wright
Starter—Kevin Dixon
Starter—Carlton Smith
Reliever—Chuck Lofgren
Reliever—Neil Wagner
Have you heard or seen anything this spring that would your projections change?
Dixon has actually since retired, and Lofgren at this point projects to be in the rotation there again. But yeah, the starting lineup and rotation should be pretty loaded for the Indians at Akron. The same can be said for the Triple-A Columbus team as well, but Akron has some really nice emerging talent and a good mix of players up and down the lineup and on the pitching staff.
Can you compare the ceiling of any of these players to current or former major leaguers?
Some of these are easier than others, like the most common comp for Weglarz is Jim Thome. Same mammoth size and explosion of the ball off the bat. Same sweet left-handed swing. And the personalities are similar. As for some of the others, Santana is often compared to current Indians catcher Victor Martinez, a player he has idolized. They are very different players, but how hard Mills plays reminds me of Grady Sizemore.  Rivero is often compared to Jhonny Peralta from an offensive standpoint, and he's better than Peralta defensively. Most of the other guys don't project to be big contributors in the big leagues, though Rodriguez has a shot to be a nice super utility player along the lines of a Mark DeRosa.
Based on your write up, it sounds as if Carlos Santana's ceiling maybe even higher than Victor Martinez's peak. Specifically, Santana projects as a stronger base runner and may not take as long to become above average on defense.
Yes, Santana is very athletic, which is something that gives him a big advantage and something Martinez has never really had. He is a converted outfielder and third baseman, so he has the rifle arm and he has the athleticism to move well behind the plate. It is just a matter of developing mechanics back there and also all the intangibles like game-calling, handling a pitching staff, knowing his opponent, and so on. Offensively, his potential is right in line with Martinez, but I believe he has the ability to be a more complete player as a better defender and won't be a base-clogger.
Which likely 2009 Aeros are you most excited to watch?
On the pitching front, to me, it is without a doubt Hector Rondon. He is on the verge of becoming something very special and 2009 could be his national coming out party. The Indians already think the world of him, and he did get some recognition last year in the Futures Game. Still, he has been largely overlooked by a lot of people coming into this season.
Rondon has a chance to go out and establish himself as one of the best up right-handed starting pitching prospects this year, and it should be fun to see where his development takes him. He saw a spike in his velocity last year and he now touches 96 MPH.  He has a free and easy delivery. His secondary stuff jumped by leaps and bounds. And he will only be 21 to boot.
On the hitting side, it would probably be Weglarz. I am also very excited to see if Rivero begins to realize his potential, and I want to see if Mills can keep chugging along, but Weglarz to me is the guy who will be the most fun to watch this year. Again, he is very young at just 21, but he is already a hulking menace at 255 pounds of Canadian muscle. It is scary to think how much bigger he can get. But the Gentle Giant not only can hit the ball a long wall, he also has the plate discipline to be a 100+ walk guy in the bigs (also a 100+ strikeout guy too). I expect to see a significant jump in his home run rate. This could also be his coming out year.
Who will be this year's Hector Rondon? (A player poised to take a big step forward.)
A guy who could jump onto the scene who some people don't know about is Jeanmar Gomez. He is another nice right-handed starting pitching prospect in the Indians system who has moved right along in the system and has always been in Rondon's shadow. Gomez has always been two to three years younger than the league average at his level. I think his maturity will come out this year, as he settles in at Akron and shows some development as a prospect.
Is there a player on this team who isn't necessarily a top prospect, but who fans should pull for because of his background or approach to the game?
Right-handed reliever Erik Stiller. First off, the guy is an incredible person. But aside from that, he was an undrafted free agent out of Princeton University. Stiller has an economics degree and turned down six-figure jobs right out of college to pursue his dream to play baseball. And, so far it has paid off, as he went from being an undrafted free agent in June 2006 to playing in Double-A Akron in May 2008. Stiller will likely open the season with the Aeros again because of the Indians' incredible depth in the bullpen at the major leagues and Triple-A, but should get to Columbus at some point this season if things go right.
Who are some of the other likely Eastern Leaguers who you are excited to see in 2009?
I don't get to focus on many of the other teams' players as much as I would like since I spend so much time analyzing our hitters when we hit and pitchers and defense when were on defense. However, there are a few guys I look forward to seeing. One is Pedro Alvarez of the Pirates who I think may start his minor league career in Altoona, and if not should still spend most of the season with them. There's a lot of hype around him and he was considered such a polished prospect coming out of the draft. I want to see it for myself. Also, Lars Anderson of the Red Sox is another. He only played a handful of games with Portland last year and I think he should spend at least some of the first half with the Sea Dogs. He has incredible on-base ability.
If a baseball fan from outside the Akron area could only come to one Aeros game this season when should it be?
With the lack of rivals, it is really hard to pinpoint one game or series. But I would say any time Hector Rondon is scheduled to pitch.
What is your perception of how well Cleveland have supported their minor league affiliates?
The Indians have an excellent relationship with their affiliates. The facilities are very good, and the biggest thing is that the Indians now have four of their six affiliates all within two hours of Progressive Field. Their two highest levels are in two of Ohio's largest cities, which should only help fuel support for the big league team as well as the minor league affiliates. Really the whole operation is first class from the guy at the top in Farm Director Ross Atkins all the way down to his assistants, coordinators, coaches, and the front office staff at the affiliates. Obviously the main goal is to always develop first and win second, but the Indians have done a good job making sure they put together competitive teams at all levels.
What would you like see them do differently?
If anything I would like to see them be a little more aggressive in promoting their prospects. Obviously they have a method to their madness and for the most part it has paid off, so I am not trying to tell them how they should handle their young players. That said, I think there have been some clear opportunities for the Indians to promote from within that the organization has not taken full advantage of, be it using a prospect at the big league level or just having a more aggressive approach in pushing these guys.
Aside from indiansprospectinsider.com, what are some of your favorite sources for Cleveland minor league and Eastern League news and opinion?
Stephanie Storm at the Akron Beacon Journal does a great job covering the Aeros for that newspaper. Baseball America is always good for the broad national scope, though the quality of their stuff has diminished in the past few years. Chris Kline used to be their national writer and he was incredible. He always had tons of information on the Indians prospects. And, believe it or not, the fans are always a great source of information and opinion. With all the information and technology at our fingertips these days, the minor league fans really have a good understanding of who these players are and have very informed opinions.